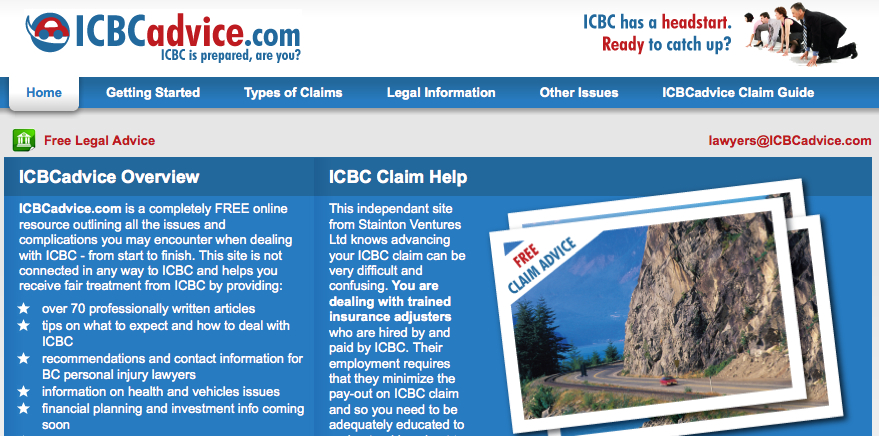 24 hours Vancouver Recently Reported on the Mussio Goodman Court Success
As reported by 24 Hours Vancouver, we are pleased to announce that ICBC has lost for the second time in trying to convince our Court that the website belonging to Wes Mussio's wife (icbcadvice.com) was infringing on ICBC's trademark.
In 2012, the BC Supreme Court ruled in favour of Mussio; however, ICBC appealed the decision to the BC Court of Appeal.
ICBC's primary argument was that the use of "ICBC" in a website domain name by a personal injury lawyer was misleading and in breach of ICBC's intellectual property rights. In particular, ICBC argued that the average consumer would likely believe that ICBC itself was offering advice on its business, rather than an independent entity.
The BC Court of Appeal disagreed and dismissed the appeal as follows:
[37]         I am unable to accept this argument as it fails to give the "relevant consumer", i.e., an Internet user, credit for even the most basic understanding of the function of a domain name.  Even though there is some resemblance between ICBCadvice.com and ICBC's family of marks, the average Internet user with an imperfect recollection of ICBC's marks would not likely be mistaken by the domain name.  They understand, for example, that a domain name which, in part, contains the name of a business or its acronym will not necessarily be affiliated with or endorsed by that business and may, instead, be the subject matter of the website or entirely unrelated to that business.  As well, they understand that it is necessary to view a website to determine whose site it is.

[39]         As indicated above, I am unable to accept that the average Internet user does not appreciate that domain names—which are limited to short combinations of alphanumeric characters—are often merely descriptive of the subject matter of the website to which the domain name resolves, rather than indicating affiliation, source, or endorsement.  Put otherwise, a person who conducted a search—using, for example, the terms "ICBC" and "advice"—which returned ICBCadvice.com in its list of results would not, based solely on observing that domain name, mistakenly believe that the "advice" referred to is provided or endorsed by ICBC.  Neither would they, as a matter of first impression, be mistaken by the fact that the domain name starts with "ICBC".  The most that person would conclude is that the website likely had something to do with the corporation.
[40]         In the result, I agree with the trial judge that the website ICBCadvice.com and its related domain names do not contravene ss. 9 and 11 of the Trade-marks Act.
Wes Mussio, who represented his wife in both the Supreme Court and Court of Appeal, is quoted by 24 Hours Vancouver as saying that there's a sizable list of domain names with the letters "ICBC" in them, such as icbctips.ca or icbc-claims.com, but "they never went after any of them."
Mussio said his wife created the website in 2006 to share information from motor vehicle injury lawyers, and to refer potential clients to a list of lawyers on the site.
"She thought it would be a good idea to retain some lawyers, including me, to write articles and put up a public service website so people are better informed. At the time it was done, there weren't a lot of websites with information back in 2006," he said.
The website also offers a book — earlier named ICBC Claim Guide, and later changed to ICBCadvice Claim Guide. An online version of the book is now available.