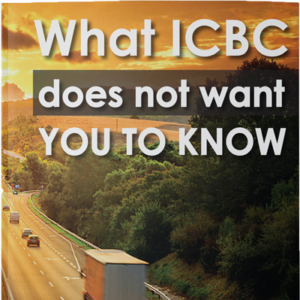 SINCE THE ARRIVAL OF "NO-FAULT" ICBC INSURANCE ON

MAY 1, 2021

, THOSE WHO ARE INJURED IN A MOTOR VEHICLE ACCIDENT AFTER THIS DATE ARE NO LONGER ENTITLED TO SUE FOR COMPENSATION UNLESS THE AT-FAULT PARTY IS CONVICTED OF A CRIME OR THE INJURIES ARE DEEMED TO BE CATASTROPHIC. 
Contact us to see if your claim meets these eligibility requirements.
THOSE WHO ARE INJURED IN A MOTOR VEHICLE ACCIDENT 
PRIOR TO MAY 1, 2021

 MAY BE ENTITLED TO COMPENSATION FOR PAIN AND SUFFERING, OUT-OF-POCKET EXPENSES, LOST WAGES AND LOSS OF FUTURE EARNING CAPACITY.

Advancing your ICBC Claim can be very difficult and confusing. You are dealing with trained insurance adjusters who are hired by and paid by ICBC. Clearly, without some knowledge on how ICBC claims work, you are susceptible to be taken advantage of.

That is why we have written an extensive book on how to deal with ICBC. After you read the book, We can assure you that you will find ICBC experience more rewarding by knowing what to expect from ICBC claim and settlement process. Indeed, you are getting decades worth of knowledge and experience when you read this book.

Over the years, our book What ICBC Does Not Want You to Know has helped many British Columbians better understand the ICBC claim process.

The book has been distributed to over 85,000 British Colombians, and after recently being featured in the Vancouver Sun and the Daily Hive the book has been published in its entirety on ICBCAdvice.com. Readers have also written reviews on the book on Goodreads, which currently has a rating of 5.0/5.0. The book is also available at the Vancouver Public Library.

Book: $4.99
---
ICBC Loss of The Out of Pocket Expense Claim
Injured? Get a free claim estimate
Get a free, no obligation consultation. Our office will contact you within a few hours.
Get Started