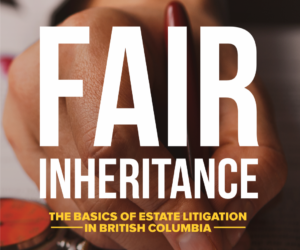 Fair Inheritance: The Basics of Estate Litigation in British Columbia
In 2019, Wes Mussio of Mussio Goodman Law published a complete guide to estate litigation law in British Columbia. The book walks it's readers through B.C. estate litigation laws in an easy to understand manner. It also highlights what to consider before death of a loved one, what are assets of the deceased, will variance claims, other challenges / issues to a will, lawyer advice and much more.
Check out reader's reviews on Goodreads which currently has a rating of 5.0/5.0. The book is also available through the Vancouver Public Library.
You can read Fair Inheritance: The Basics of Estate litigation in British Columbia in its entirety online or order your free copy of the book by contacting the author and Estate Litigation lawyer Wes Mussio at Mussio@MussioGoodman.com.
Assets Subject to a Wills Variation Claim
Injured? Get a free claim estimate
Get a free, no obligation consultation. Our office will contact you within a few hours.
Get Started